GYPSY PISOLEROS are set to release their brand new single for streaming 'Lost in a Town called Nowhere' on 26th February, 2021 from their long awaited studio album, 'The Mescalito Vampires' via Golden Robot/RIOT Records.
"The Album we always promised to make!" comments lead singer Gypsy 'Lee' Pistolero.  'Lost In A Town Called Nowhere' see's the first taster in a new chapter for the band. Melodiously catchy unparalleled sound, fully embracing their fiery flamenco/rumba passion, whilst maintaining that presumptuous Rock 'n' Roll glam edge.
GYPSY PISTOLEROS are something truly unique in today's predictable musical landscape. A sound and style that mixed sleazy glam rock with flamenco influences and a shout out to Mexican folklore and Spanish tendencies.
The insane inspiration came from frontman Lee Pistolero GLP, who struck on fusing his roots in the British glam punk circuit to the traditional flamenco/rumba sounds of Spain when living in Zaragoza and supporting Motorhead, The Ramones, Dio, Nazareth, The Cramps, Sepultura and U.F.O during the mid-90s., from stale-beer scented Midlands rock dives, to the majestic Med-coast just upwind of exotic Morocco.
'Lost in a Town called Nowhere' Pre-save for streaming HERE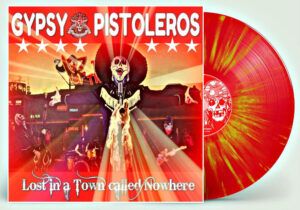 (Special limited signed Edition 7″ Red & Gold Splatter vinyl edition- 500 copies) available for pre-order HERE

'The Mescalito Vampires' Being labeled as 'Latin Rock's 'Appetite for Destruction' drops 9th July, 2021 Preorder available soon.
         Tracklisting:
Lost in a Town called Nowhere
Viva la Revolution, Viva Zapata 
 Mescalito Vampires (Welcome to the Hotel de la Muerta)
Soho Daze, just another Friday Night 
Roses, Gallows and the Wild Preachers Daughter
The Forsaken 
The name's Django 
Cisco Kid
Gonna die with a Gun in my Hand 
Alone again or
GYPSY PISTOLEROS are:
Gypsy Lee Pistolero – Vox, bad rumba guitar
Mark Westwood  (Shadowland, Clive Nolan, GLP) – Great Guitars
Gaz Le Bass – Double Bass (The Delray Rockets)
Jan Vincent Vellazco (Pendragon, Ghost, PIG) – Drums
Kris Jones – Trumpet
FACEBOOK  |  TWITTER  |  INSTAGRAM  |  WEBSITE  |  GOLDEN ROBOT RECORDS