Joa Antoun started her career as a part-time tattoo artist 8 years ago and has put in 3 years as a full-time artist.  Joa is very detail oriented, so she enjoys doing tattoos that have small details and geometric lines.
Where are you located?
Beirut Lebanon
What inspired you to pursue your career as a tattoo artist?
I was inspired by some tattoo artists that I've met during my visit to Istanbul\Turkey.
How many tattoos do you have?
Not enough.
Most interesting tattooing experience?
The most interesting experience was reconstructing and covering up the scars for breast cancer survivors.
What is one of your pet peeves as a tattoo artist?
I think one of my pet peeves as a tattoo artist is clients who move a lot during their tattoo sessions.
If you could tattoo any person in the world, who would you choose?
Lady Gaga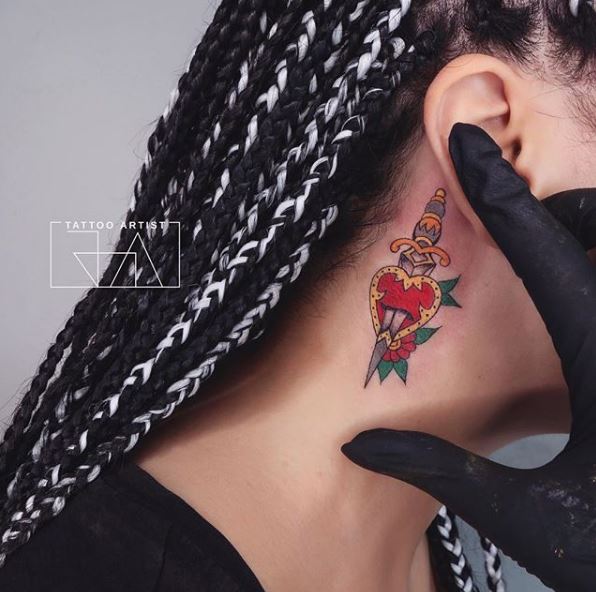 Besides tattooing, what are you passionate about?
Food.
Tell us about your shop/studio – what can a client expect when they walk through your doors?
My studio design is decorated with light colors easy to the eye as soon as you walk in. My team made up of a group of girls and we all work together, empowering one another. The nice thing about my studio and something that is obvious and pointed out by everyone who visits is that it's a fun place to be and the vibes are positive. In the waiting area, we have a foosball table that loosens up the tension of some clients that might feel tensed before getting inked.
Any advice for aspiring tattoo artists?
Follow your passion and don't let your skills get rusty. Always seek to learn more.
What is the best way to book an appointment with you?
Clients can send me a DM on Instagram or email me through my website.
Instagram:
https://www.instagram.com/joaantountattoos/
Website: