"If you want to get better, don't just work hard, work harder than the guy next to you."
– Danny Elliott
For as long as he can remember, Danny Elliott wanted to make a career out of art.  He discovered the depths of his artistic calling after attending college for one semester. Rather than continuing down that "traditional" path, he decided to pursue tattooing as a more hands-on approach to creating.
Danny has been tattooing for almost 7 years, yet his work resembles that of a seasoned veteran in the industry.  He's constantly inspired by the tattoo community as a whole, the incredible art being produced, and the ever-changing craft itself.
You can find Danny in Lewisville, TX (Dallas) at Rebel Muse Tattoo studio.
How would you describe your style?
I tend to focus on realistic subject matter with a contrasting style in the background. This can mean anything from abstract/ out of focus patterns to bold line work, but in any case, I want the background to frame in focal point.
How many tattoos do you have?
I have 8 tattoos haha. The better answer, however, is that I have over 120 hours under the needle.
Most interesting tattooing experience?
I tattooed a gremlin wearing an astronaut suit on my friends left cheek about 5 years ago. To this day, it takes the cake on "most interesting tattoo" haha.
What is one of your pet peeves as a tattoo artist?
When someone brings in all of their family and friends for the session, or they have other plans that day and put a time limit on our work together.
If you could tattoo any person in the world, who would you choose?
Chris Pratt. He seems like he'd be a fun and funny dude to hang out with all day – and then he could tell me all of Marvel's secrets.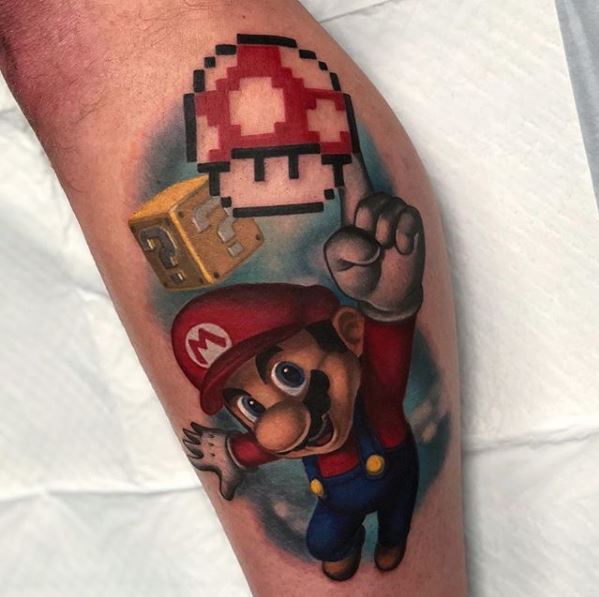 Besides tattooing, what are you passionate about?
Travel, Snowboarding, painting, movies and video games.
Tell us about your studio – what's the vibe like? Walk us through what can a client expect when they walk through your doors?
Rebel Muse is easily one of the most upscale studios around. Our clients generally feel more at ease because rather than trying to create a "dark ambiance," our studio is brighter, with original art on every wall, and you're always greeted by our friendly desk staff. We have 17 artists who work in every style and private rooms for a more personal 1 on 1 experience.
Any advice for aspiring tattoo artists?
#1 Draw to sharpen your design skills and paint to broaden your understanding of color.
#2 Attend seminars and read every bit of educational material you can get your hands on.
#3 Get tattooed by the people you admire to both learn new techniques and to network – it's much easier to connect with people and pick their brain whenever you're sitting with them all day.
The thing I love most about this job is that you get out of it, EXACTLY what you put into it. So if you want to get better, don't just work hard, work harder than the guy next to you.
What's the best way to book an appointment with you?
There is a contact form on my website, DannyElliott.ink
Follow Danny Elliott on Instagram