Los Angeles Tattoo Artist, Channing Hiraldo (aka Channing Tattoo), has shaped her life into an epic journey of perseverance that has led her to embody her unique design. Treating the process and experience of tattooing her clients as though she was tattooing her own skin, Channing is creating universes of mesmerizing art on clients who are traveling from both near and far to have her weave a part of the fabric of their lives onto their skin. I caught up with the empowered woman to discuss her background, leaving the corporate world to pursue the arts, her favorite music to listen to while tattooing and more.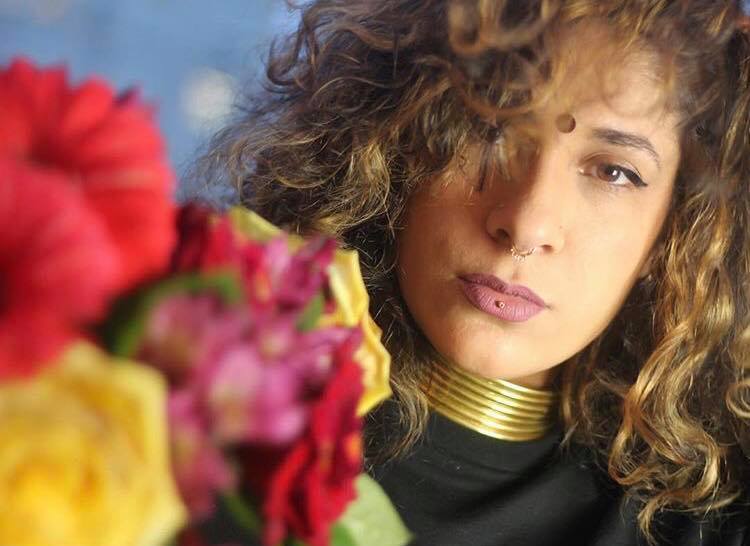 Photo Credit: Eric Heights
How long have you been tattooing?
I've been tattooing for two years and apprenticed for one.  Therefore, a total of three years in the industry.
Where are you from and where are you located now?
I was born in Bronx, New York. I moved to South Florida in my teen years and I recently made the decision to move to Los Angeles, California and that's where I'm currently located.
Tell us a bit about yourself – what inspired you to pursue your career as a tattoo artist?
As a child, I was always drawing or painting something. I remember painting on myself with nail polish, permanent marker and pretty much whatever I got my hands on. My mom always got upset with me because of the mess I would make! As I got older I tried the 9-5 corporate life and realized it wasn't for me. So, three years ago, I quit my job in the corporate field and pursued the career of a tattoo artist. The thought of creating art pieces that last forever just made me feel happy. I didn't know anyone in the field at the time so it was all very new to me.  All I knew was that I wanted to use the talents I have to it's fullest potential and I wasn't going to accomplish that by sitting behind a computer all day.  I found a great apprenticeship opportunity and here I am three years later!
How would you best describe your style?
The best way to describe my style would have to be color-realism mixed with surrealism. I like to create pieces that express imaginative dreams and characters. I love science and learning about our universe so I mix that into my work. I currently have a series I'm working on that represents women in a higher form I call the series 'Ascended Masters'. My goal is to create a different custom design for all my clients but with my particular style, vision, and creativity.
How many tattoos do you have and who are the artists behind them?
I have a full leg and arm sleeve and I have a mandala tattoo on the back of my head. The artist behind my arm sleeve and some of my leg sleeve is an artist named Jean Alvarez from Miami Tattoo Company in South Beach. Miryam Lumpini is now finishing my leg sleeve and Maria Acevedo from Iris Tattoo in Wynwood tattooed my mandala.
What has been your most interesting/funny/awkward tattooing experience?
There was a guy that was trying to get his girlfriend back after she broke up with him and he thought that getting a tattoo of her daughter's name and birthdate would do the trick he loved her like if she was his own. I created a cute Minnie Mouse design with the name and date.  As soon as I finished the tattoo, he told me the birthdate was all wrong. He knew he messed up because he wrote the date down we reviewed the design and he gave me the go ahead. Not sure what he did after, but I'm sure that tattoo didn't work out in his favor.
What is one of your pet peeves (as a tattoo artist, or just in general)? 
As a tattoo artist, I have a few pet peeves. I dislike being asked to copy another artists design that they worked hard to create or a current design that's already tattooed. I dislike being stood up last minute. I like to value my time and use it wisely. And everyone hates a know-it-all!
What's one of your favorite things about being a tattoo artist?
People that I tattoo call me a therapist.  I love having long sessions with clients and talking about things going on in their lives. Sometimes throughout the tattoo, we find a solution to any problems they may have or have been going through. I like how people trust me and are comfortable with me. I feel tattooing is very intimate, so I take tattooing very seriously.
Do you listen to music while you're tattooing? Who are some of your favorite bands/musicians?
I do listen to music while tattooing; all kinds of music! I have a work playlist that I always put on shuffle.  I listen to Hispanic music, Reggae, Jazz, Classical, R&B/Soul and Hip-Hop. I'm a Gemini so I like when it's random! It just depends on my mood at the moment, but I have many favorite musicians and it's hard to just choose a couple.
If you could tattoo any person in the world, who would you choose? 
If I can go back in time I would love to tattoo Salvador Dali who is my favorite artist. If I can choose someone currently it will be Sade or Erykah Badu.
Besides tattooing, what are you passionate about? 
I have other goals I'm pursuing in the art field. I'm passionate about my paintings and the series I'm currently creating. I'm passionate about my well being. I love to meditate, work out and surround myself with good vibes. I'm also passionate about supporting vegan/ cruelty-free products such as tattoo inks and companies that don't harm animals. I'm a huge animal lover and I kind of like them more than humans!
What is your favorite food/restaurant?
My favorite food is Jamaican food. I can eat that all the time and I have a huge sweet tooth.
Do you have any advice for aspiring tattoo artists?
You have the power to control your future. Just keep going and jump over those obstacles that are in your way.  Always work hard to perfect your craft and get rid of any negative people in your life.
What's the best way to book an appointment with you?
The best way to book an appointment is through email [email protected]
Channing Tattoo Social Links: