STOP STOP  A band proving themselves to be a compelling force in  todays rock scene.  Blending their own unique style, already self-releasing 2 out of 4 albums. This talented trio can't be knocked for their passion and dedication.  Hailing from Spain, and now residing in the UK, these 'Three Amigo's' whip up an enthralling frenzy on any stage.
'Big Vaccine' sees the first single release from their upcoming 5th studio album. With melodic riffs, ambiance of energy and companied with a humorous video filmed and edited by 'Sitcom Soldiers', U.K.
"Everybody seems to need that 'magic shot' to get back to normal now, but we think what everyone should take is a 'love shot' to get back to 'human', that's what 'Big Vaccine' is all about" comments front man and bass player Jacob A.M.
STOP STOP are set to release their 5th Studio album 'LOW COST LIFE' recorded live at 'Sound Of The Kings Studios' Barcelona. Written by Jacob A.M. produced by J.L. Climent and set to drop May 1st, 2021. Pre-order your copy HERE
      'Low Cost Life' Tracklisting:
Raised on Rock & Roll
Big Vaccine
Turned My Life Around
Banana
Heart-On
Let Me Fill Your Void
Right Now
Anarchy
Viva Satanás
STOP STOP formed in 2009 Barcelona, Spain, founded by front man and bassist Jacob A.M.  The band has seen many short-term lineup changes. Danny Spasov (Drummer) and Vega (lead guitarist) joined, 'The Band' was finally complete.  Frustrated with the Spanish music scene, STOP STOP packed a van brought with savings they had, then headed for the shores of the UK.
"We left everything behind in Barcelona, bought a van with all our savings and dreams, put all our equipment in it and moved to the UK not looking back nor giving a damn about anything but rock and roll. We started playing in the streets where we got some money for food. No showers for weeks, slept in that tiny little goddamn cold van and hardly had the chance to communicate with our families but we carried on, we were living the adventure of our lives with one thing in mind, we rather die living the dream than a lifetime of regrets, two options were left for us: death or Rock & Roll!  Soon after that, we made good friends all over the land that helped us so much and gave us everything they had. We spent months sleeping on everybody's floors around the country, got fed and well looked after by our fans."
With ample amounts of blood, sweat and tears, giving up was never an option. STOP STOP continued to push forward receiving exceptional response and praise. Playing all over the country, they were soon able to afford a house to rent. With UK shows taking place every weekend, tours throughout Europe began. Performing at International festivals such as Rocklahoma (U.S.A) , The Ice Rock Festival (Switzerland), SleazeFest (Germany), HEAT Festival (Germany), The Godney Gathering (U.K.) and Hard Rock Hell (U.K.).  In 2019 single ''The Last Call', from the bands 4th album 'Get Selfied' made it onto the turntables of National Radio Stations 'Planet Rock'/'Kerrang'/'BBC Radio.'  With an ever growing fanbase, this crazy train is not about to STOP!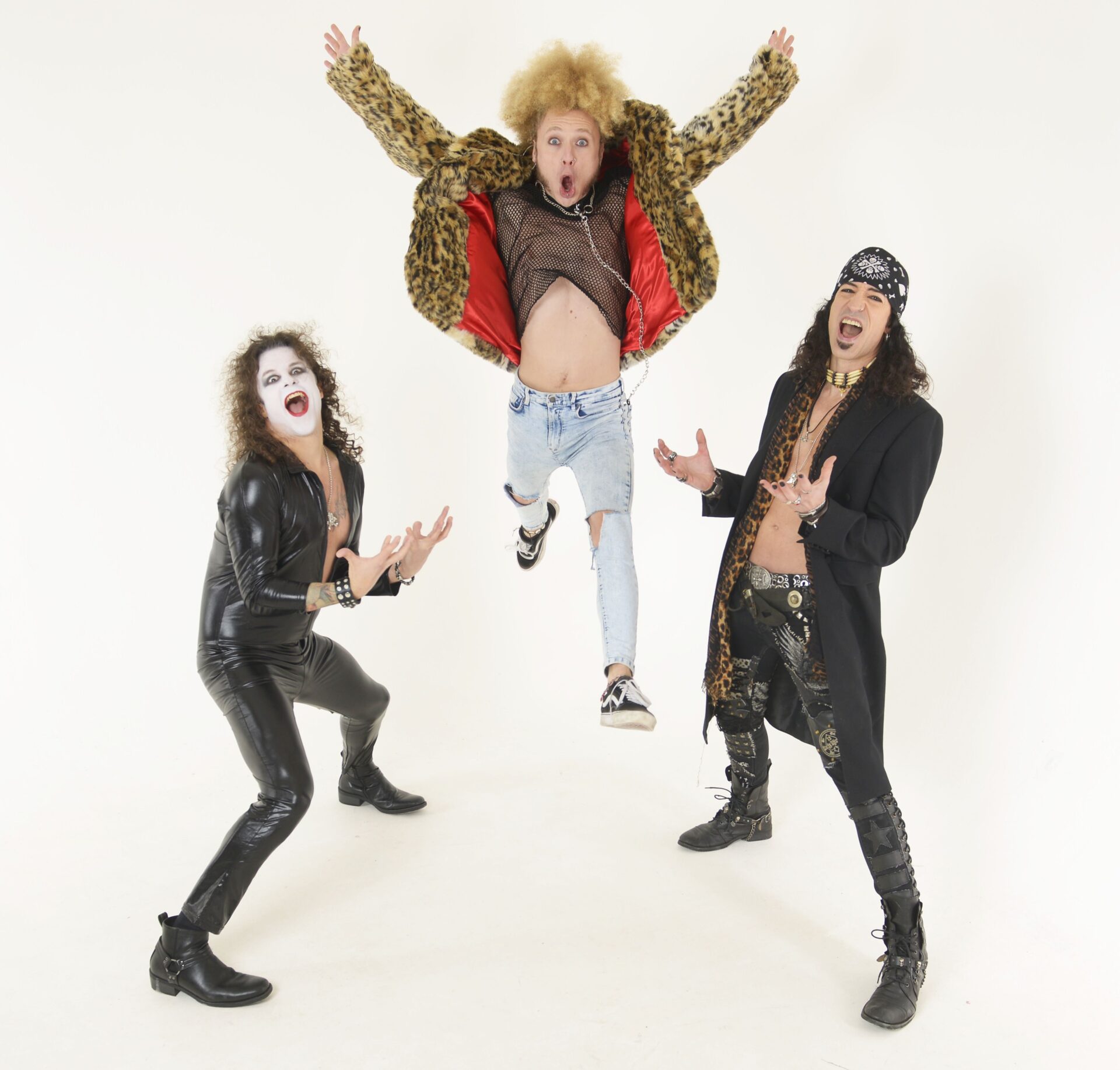 STOP STOP are:
Jacob A.M (Bass, Vocals)
Vega (Guitar, Vocals)
Danny S. (Drums, Vocals)
STOP STOP online: