Indie-punk outfit Pat and the Pissers is set to drop their two-sided long player, SOIL/America's Dream, on vinyl via Romanus Records on September 30. One LP is on each side of the record, which is filled with real maggots.
Talking about the maggot-laced vinyl record, Romanus Records' Chris Banta told Louder, "I made a maggot-filled mockup for a potential client that I can't legally mention at this time. They said no to the maggots as I continued to search for real black flies in their fly state. The idea was simply too good, too gross not to use. I talked to Pat and the Pissers and asked, 'Does your new LP have anything at all to do with bugs?' They said the artwork on SOIL literally has some grub bugs on it, and then we were off."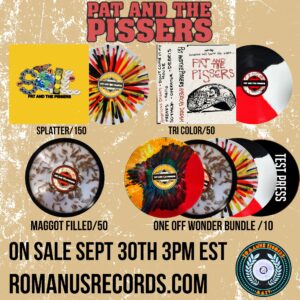 Made up of Alex Beckman (vocals), Conner (drums), Kilmer (bass), and Mat Keyser (guitar), there's no one named Pat in the band. In fact, the band got together on the spur of the moment when Beckman's other band, The Resource Network, couldn't perform at a gig. Beckman called Conner, who called Kilmer, and they performed that night as Pat and the Pissers.
The America's Dream side of the album encompasses seven tracks. Entry points include "Freaks," opening on thick, dirty guitars riding raw percussion that shifts tempo as Beckman's potently rasping vocals imbue the lyrics with edgy, throat-tearing tones.
"You're just a bunch of freaks / Bent up on coin machines / Just a bunch of freaks / Entertainment tag a wall / Kleptomania hit the mall / Pockets full of cigarettes."
"So Thick" begins with a thrash metal-like intro and then flows into a mid-tempo rhythm topped by gnarly, grinding guitars. "Don't Come in My House" features a pulsing, cymbal-filled intro as Beckman's Sprechstimme vocals travel overheard, giving the tune a portentous feeling, followed by shouted, gang-like harmonies, leading to an abrasive wall-of-sound outro.
Highlights on SOIL, which consists of 12 tracks, include "Out of Style," conjuring up a sensation of Rob Zombie on meth, with its jagged, cutting guitars riding a pushing punk rhythm that soon changes tempo, slowing, allowing the guitars to take on viscous textures.
A personal favorite because of its chugging guitars and swaying flow, "Meat" roils and boils with blistering, grungy surfaces. Whereas the intro to "Gut It" recalls Foreigner, followed by merging into a low and dark melody dripping with grimy guitars as Beckman struts his granular vocals, painted with snarling screams.
Fast and vicious, the title track rolls out on a reckless rhythm with buzz-saw guitars emphasizing the wild energy of the song. "Injury" opens on doom-like guitars and then escalates to a frenzied punk tune with blaring guitars and ragged vocals.
Akin to someone setting off a powder keg, Pat and the Pissers pump out visceral layers of erupting hardcore punk that surge with momentum.
Follow Pat and the Pissers Instagram | Spotify