Baltimore based, Alternative Rock trio NOVA KOLOSO has released the official music video for "Hallucinate Your Faith." The title single off of their upcoming, sophomore album, set to release 11/8/2022 via BIG CURVE MUSIC, "Hallucinate Your Faith" was directed by Mark Colegrove and features footage from the public domain film "The Arrival," a 1980 promotional film for the UFO cult, Church of Unarius.
"With Hallucinate Your Faith, we were interested in creating a wall of intricate sounds, textures, and deep heavy grooves. I think the growth from our first album just a year ago is immense, and everything we're striving for as a band really shines thru on this album." – MARK COLEGROVE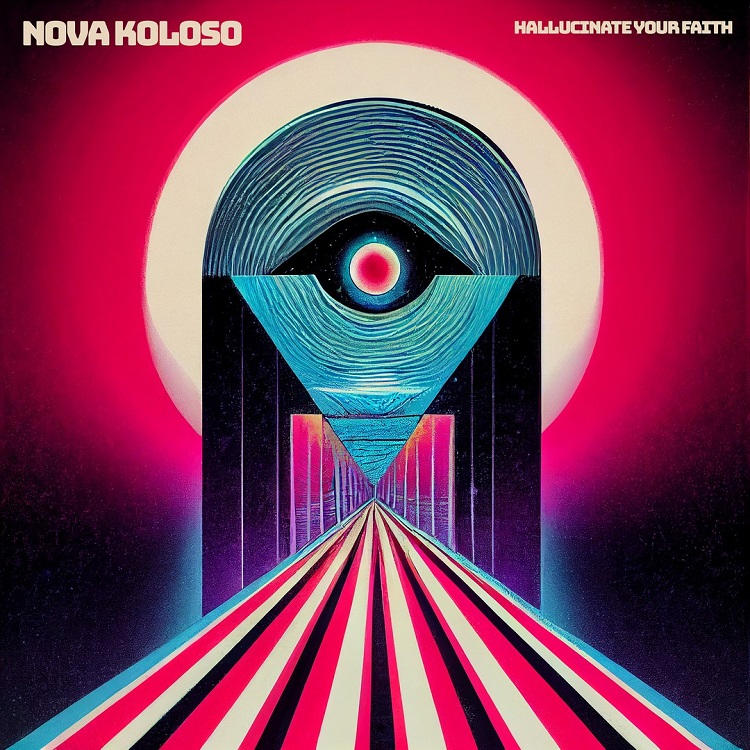 Track List:
1. Hallucinate Your Faith
2. Whatever You Want To
3. New Recruit
4. Dead Tongue
5. Night Surf
6. Washout
7. Salamander
8. The Mastermind
Pre-Order 'Hallucinate Your Faith' Online NOW!
Nova Koloso was born during the pandemic and released their first self-titled album in early 2021. While brothers Mark and Tom Colegrove were able to play together on a handful of tracks, the remainder of the album was finished by Mark alone as the pandemic waned on.
"Hallucinate Your Faith" is the celebration of the two being able to play together in person once again, along with a few new collaborators including Ken Moore handling the majority of bass duties, along with guest appearances from Jenny Rae Mettee (Fun Never Starts) and Fiona Crowley (Handapple).
The album was mixed and mastered by Steve Wright at Wright Way Studios in Baltimore.
The new album: 'Hallucinate Your Faith' includes 8 brand new tracks. The CD includes a bonus track: a cover of Black Sabbath's 'Supernaut"
Catch NOVA KOLOSO LIVE:
11/05 @ 49 West – Annapolis, MD w/ Swampcandy, The Shit, Daphnie Eckman
11/20 @ Hank Dietles – Rockville, MD w/ American Jetset, The Neuro Farm
Connect with NOVA KOLOSO:
Facebook | Instagram | TikTok
Connect with BIG CURVE MUSIC:
Official
Facebook | Twitter | Instagram