Today marks the resurgence of DJ and producer Rain Man, aka Kris Trindl, as he introduces his new single, "Still Young," featuring OLY.
Speaking to the song, Rain Man shares, "What I love about 'Still Young' is the emotion it evokes within when I listen back to it. It feels like a powerful reminder that everything is possible, and all of our hopes and dreams are right in front of us; all we have to do is reach out and grab them."

OLY adds, "''Still Young' is about living in the moment and being a child at heart in a world that pressures us to race the clock and constantly tells us we're not enough. Kris (Rain Man) really captured the melancholic energy of the verses while making a hopeful, euphoric drop. To us, the song is an underdog anthem of sorts, and we hope that when people listen, they're reminded that it's never too late to enjoy life and have fun."
Originally from Chicago, Rain Man was one of the founders of international dance music trio Krewella. Simultaneously the group's primary producer and one of its principal songwriters, Rain Man rocketed to the summit of electronic music with the release of Krewella's EP, Play Hard, followed by their debut album, Get Wet, which topped Billboard's Dance/Electronic chart.
He also accounted for the success of Krewella's "Alive," hitting the Top 40 on Billboard's Hot 100 chart. Raw, punchy, and rife with Rain Man's distinctive blend of heavy bass and pop savors, "Alive" thrummed with infectious energy.
After splitting with Krewella, Rain Man took a short break to reflect on who he was and some of the decisions made in the past. Now he's back, refreshed and ready to roll!
Rain Man first collaborated with OLY on 2016's melodic "Bring Back The Summer," amassing more than 100 million streams. Reunited on "Stay Young," Rain Man struts his musical gift, amalgamating complex layers of sonic color and concentrated rhythmic pulses.
Tattoo.com spoke with Rain Man about his hiatus, his work with XAIA, how "Still Young" came together, and his arsenal of ink.
Welcome back! After separating from Krewella, you took a pause. Tell us a bit about that journey?
After the Krewella split, I took some time away from the spotlight and tried to learn more about myself and maybe grow up a little. I ended up rediscovering my love for music in general. I even tried stepping away from working on projects for a few months, but I found myself needing to get back on my guitar or back on Ableton at the computer…I learned that music is the best way I can express myself.
What was working on music like during your hiatus from Rain Man as a project?
During my time away I was able to work on a project called XAIA. With XAIA, it was great to be back in a group or band-type scenario where the end result was something that would never have existed without the back and forth of ideas and inspirations of everyone involved. Like a synergistic reaction.
What motivated you to return Rain Man in a big way this year?
After COVID hit and I couldn't go out to DJ at the club or go to events at all, I realized how much I had missed the experience of performing live or the energy of being at a show. I knew that I needed to get back to those experiences and I want to be able to cultivate those moments for others.
How does it feel to be back releasing music?
I feel great about all the new music that I've been working on. Once I realized that was most happy creating and sharing music, everything else fell into place and I'm so excited about the future, I feel like I've just begun.
Your new single, "Still Young," drops April 9. What inspired the song?
Oly came to me with the vocal actually and it just hit something inside me … the lyrics and the vibe were so captivating that I just had to jump on the guitar and create something. I'm super lucky to have someone like that in my life, who can just send me a fire vocal and inspire me to create.
How and when did you first link up with OLY?
In 2015, Oly sent a tweet, tagging Avicii and me. It said something like 'Hey, I know you guys both like to use guitars in your songs…I'm a singer-songwriter as well, check out my YouTube,' I clicked on the link and was blown away. I followed up with her and our first collaboration was our song called "Bring Back The Summer."
How did you get started in music? What's the backstory there?
I grew up in a musical home. I started playing the drums when I was in elementary school and switched to guitar because it felt more expressive. Then I played in a bunch of bands in high school and got introduced to music production and DJing and just kept on learning.
In your opinion, which artists are killing it right now?
I absolutely love Jacob Collier. I think he's next level with his vocal harmonies and he has such a unique sound. Another who comes to mind is Lizzy McAlpine who is so tremendously talented and soulful. Also, Griz is killing it right now and I am so pleased to watch his continuous rise.
You have ink. How many tattoos do you have? And which is your favorite?
I have about 10 or 11 tattoos. I think my favorite one is the 'rain' tattoo I have on my left knuckles. I got them last November and it just felt like I was coming into my own as an artist. I also got a dripping rain cloud on my right hand around the same time, and I started feeling everything come together.
What significance does your ink carry? Is it spiritual, commemorative, or simply body art?
I think all three apply! I have a couple that are commemorative, a couple that I consider to be just body art, and one in specific that is a spiritual reminder. It translates to "above the clouds" and reminds me of my Greek heritage.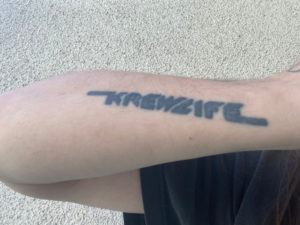 Do you have a favorite tattoo artist?
I'd definitely say my guy Takeo (Insta: @tko323) is my favorite tattoo artist. I met him by chance when I had some time to kill on Sunset Blvd in LA and I walked into his place; we talked for a bit and really connected so I went in that upcoming weekend. We've been working together ever since.
Now that you're back, what can your fans expect?
People can expect a lot of new music! I feel that in the past I failed to release certain songs, for so many different reasons, but moving forward it's all about pushing my boundaries and not letting art go unshared.