Aussie Rockers, Eat Your Heart Out,  are making their dreams come true through musically exploring human nature while shining forth a bright and colorful hue. Gearing up for tour with Simple Plan and soaking in the feels from the release of their EP,  Eat Your Heart Out are steadily establishing themselves as a band to keep an eye on over the years to come. I caught up with Vocalist, Caitlin Henry, to discuss the release of 'Mind Games', being a part of the Fearless Records family, life in Newcastle, tattoos and more.
Congrats on the release of your EP, 'Mind Games'. Tell us about the creative and recording process behind the release.
Thank you! 'Mind Games' is all about this idea of introspection and there are themes regarding struggles with mental health all throughout the EP. We started writing 'Mind Games' mid-late 2016, and it was pretty tough initially. We had a few songs that we just couldn't seem to get right on our own, but once we got into the studio in May 2017 with Producer, Zach Tuch, everything came together really well. The studio time was a bit stressful, we had some power outages and I got sick two days before I was meant to start tracking vocals, but we pulled it together in the end. We definitely couldn't have done it without Zach's guidance, he did an amazing job of making everybody work harder than we thought was possible.
What are some of the greatest lessons that you have learned throughout the recording process that you will take away and ingrain into your future recording experiences?
Every time we go into the studio we realize we could always be more prepared! I personally am still learning to not be afraid to push myself harder in the studio and try things I haven't really done before. I try to take every experience as an opportunity to learn, especially if I've been uncomfortable or unhappy with the outcome.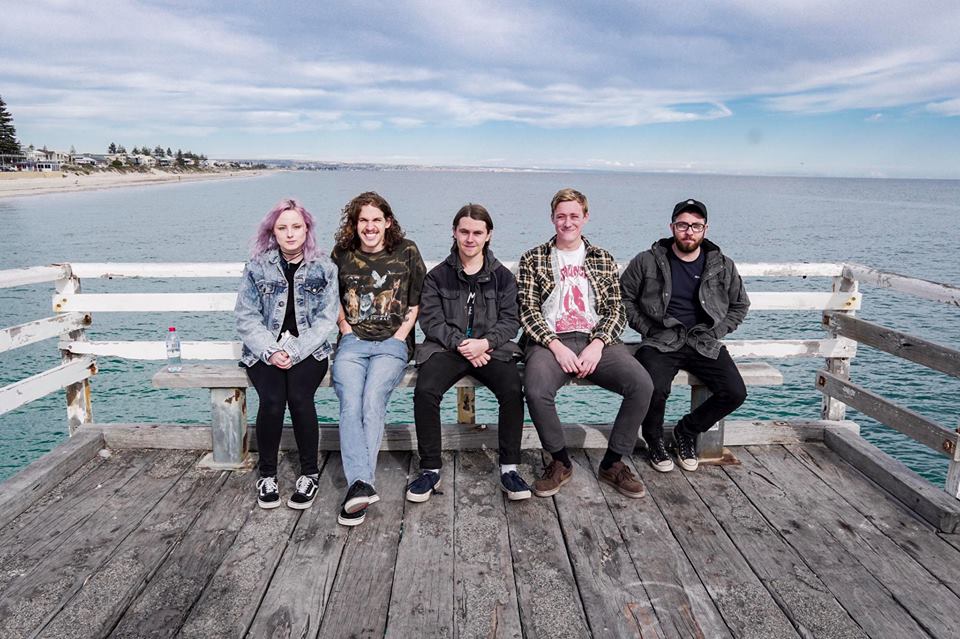 Photo Credit: Jack Rudder Film
What were your top three favorite albums of 2017?!
'Feel Something' by Movements
'After Laughter' by Paramore
'Spin' by Tigers Jaw!
Any upcoming tour or festival appearance plans that you can fill us in about?!
We are touring with Simple Plan and Real Friends around Australia in April, so that should be a great time!
If any of our readers have never visited Newcastle, what are some must-see spots that you recommend?
The beaches and the foreshore are fun to visit,  and there are some nice nature reserves like Glenrock that are great for a casual bushwalk!
Let's talk tattoos. Tell us about some of your favorite personal pieces and the tattoos artists that you worked with to bring them to life.
My favourite personal piece is a hand holding a rose on my inner arm. I have always associated roses with the women on my Mum's side of the family, as my Nan used to grow beautiful roses in her garden. It was done by Emily Breadner, who is an incredible artist originally from Newcastle but now based in Sydney.
Tell us about how being a part of the Fearless Records team has inspired you and changed the trajectory of your journey so far.
Being a part of the Fearless family has changed everything for us, in the best way possible. Beforehand, we just took everything one day at a time and did the best we could, but there's only so much you can do on your own. Now we an incredibly supportive team around us to help build and plan and it really has just given us a whole new sense of hope for our music career. It's reinforced the idea that we need to make the best music we possibly can, because we've been afforded this opportunity that not every band gets.
If you could get any tattoo, budget free, by any tattoo artist in the world, what would you get tattooed and which tattoo artist would you choose?
I don't really keep up with any big names in the tattoo industry so there's not really any one person that I'm desperate to be tattooed by, but I'd probably choose to get my sternum and the other side of my ribs done by Alexis Hepburn because I love her work. If I could get it done pain free as well that would be wonderful!
Have your parents seen any of your live shows yet? If so, what has been their reaction?!
My parents have seen us three times I believe. They were at our first show ever (which we played absolutely terribly!), an average show in Newcastle a few years back and most recently, they showed up and surprised me at our Newcastle headline show on the 'Carried Away' tour. It was a really fun show and they were quite impressed with how far we've come since the last time they had seen us. They were very proud.
Last but certainly not least, any closing messages for your fans?!
Thank you for supporting us, if you haven't checked out 'Mind Games' yet we would absolutely love it if you did and hopefully we will see you at a show soon!
Eat Your Heart Out Social Links:
Facebook • Twitter • Website • Spotify