Photo Credit: Jared Thomas Kocka
Los Angeles DJ Trio, Cheat Codes, know how to get the party started and have taken the EDM world by storm with their chart-topping hits and jaw-dropping stage productions. Dishin' out mad love for their fans across the globe and spreading positive energy as they go, the three amigos (Trevor, KEVI and Matthew) serve as an example of what can be created through dedication, persistence and constant creative innovation. I caught up with Kevi to discuss their latest collaboration with DVBBS for their new single, "I Love It", the upcoming EP release of 'Level 1', the vibes at EDC, tattoos and more.
You guys are gearing up to release your new EP, 'Level 1'. Tell us about your creative approach   and what we can look forward to with your first EP.
We wanted to do something really different rather than stick to the style of music that we have created in the past. We wanted to make this release a collection of dance tracks. We really haven't put out a collection of dance tracks since we started. We wanted to give back and give all of the Dance fans that have been with us since day one something to vibe to.
Awesome. Speaking of Dance, you guys just closed out the Circuit Grounds with a sunrise set at EDC. If any of our readers have never been to the festival, tell us about a day in the life through your eyes and what you love about EDC.
Yes! It was super fun. EDC is so great. It is a place where everyone can escape all of their bullshit and everyday normal life (work, stress, etc) to just come out to the desert in Vegas to party for three days straight. It is really a non-stop party and everyone is just so happy. No one is causing drama or beef at EDC, you know? It's all about peace and having a great time together while not worrying about anything.
Totally. People travel from all over the world to experience EDC. I have heard nothing but rave reviews and wild stories that turn into a memory of a lifetime for the people that have attended.
Yes! There are so many people that come from all over the world for EDC. I have never seen Vegas as crazy as it gets for EDC.
I bet. It seems as though you guys have never been afraid to take risks as a group within your music. What has led you toward reaching this place and toward the desire to create your own rules?
Ever since we started, we always believed that we had the cheat code to life. We knew what we wanted and we knew that we could get it; it's all just a matter of patience and time. There were people telling us that we couldn't do this or that we couldn't do that. We knew that we could do anything. We all get along really well! We are three best friends who have the same goals and mindset.
It seems like a brotherhood. You're pretty covered in tattoos. Tell us about some of your favorite personal pieces and the tattoo artists that you have worked with to bring them to life.
I just got this dope jet plane tattooed on my stomach which is so sick and definitely one of my favorite new pieces! I have a Mario Kart last supper piece on my arm and a bunch of tattoos that are about cartoons and stuff. I also have my dog tattooed on my hand. 
The tattoo artist that I go to is Romeo Lacoste. He is really good at doing small, quarter-sized tattoos. 
Speaking of small tattoos, I saw that you have a small tattoo on your face which you received as a gift….
Yes! It's so funny how that came about. We have a song, "No Promises", with Demi Lovato and after it went platinum, Demi got us tattoos by Bang Bang at Bang Bang NYC as a gift. It's something that we will remember forever.
Trevor got a UFO tattooed on his neck. Matt got a skeleton tattooed hands on his arm. I got a little owl tattooed behind my neck along with a little cross underneath my left eye!
What a story. Rumor has it that you guys have a shaman. Is Harry Paul still around and contributing to your spiritual health?
Yes, we do! Harry is so great. We haven't seen him in about three months, but he is a plug. Harry is the healer.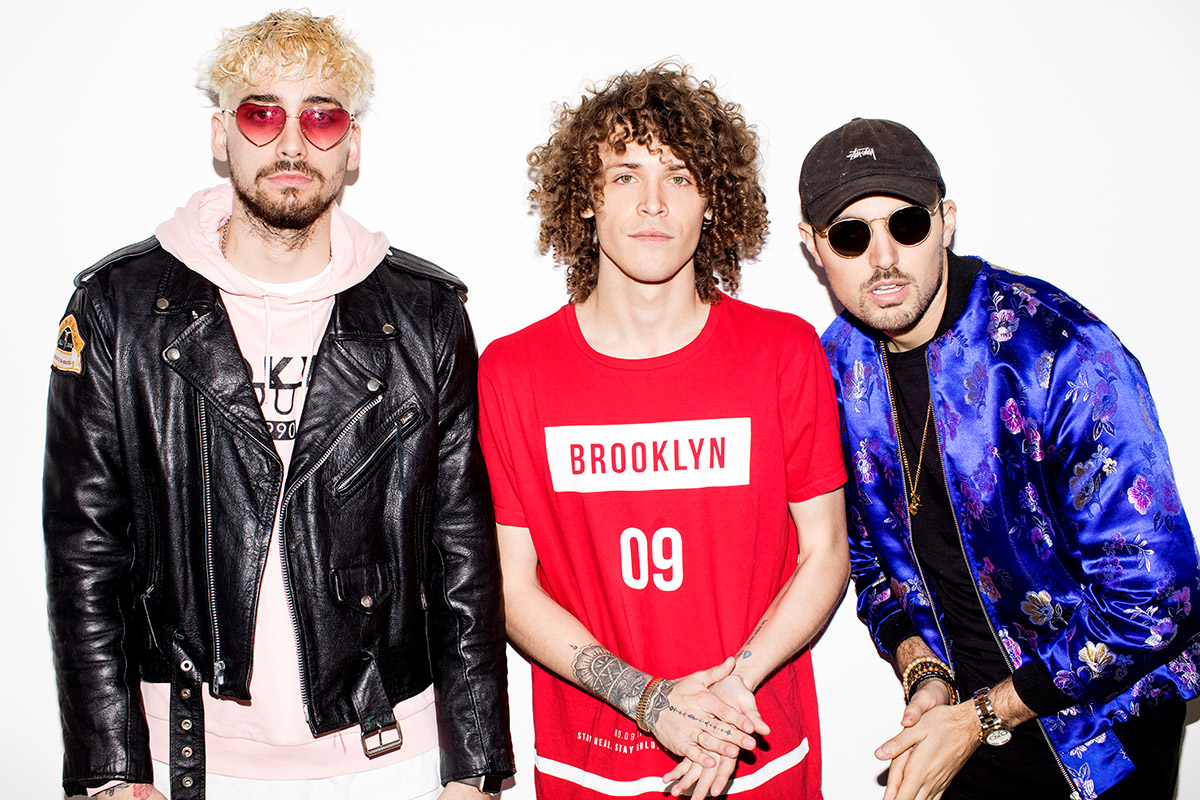 That is so unique! You guys just put out a banger, "I Love It", with DVBBS. How'd that come about?
The guys of DVBBS are our homies! We were at the studio one day working on the song and we knew that the song would be perfect if DVBBS could touch it. We hit them up and they actually came to the studio the following day. We wrote the second verse when they came out and knocked it all out right there. We all vibed and totally loved it. Personally, it is my favorite track from the EP because it is more of a Pop song with Dance elements.
It's a banger. "I Love It" has its own unique touch.
Yeah, exactly. We are super chill with DVBBS and they are great to work with. We are so stoked to release 'Level 1'. This will be our first EP that we have ever released. We are so excited to see how the fans and everyone will react to it.
Awesome. Last but certainly not least, any closing messages for your fans?!
If you don't follow us yet, you should go follow us all on our Instagram accounts and all of our socials! We are going to be dropping a bunch of new songs this year! We have a bunch of new bangers coming out with some legends pretty soon and throughout the rest of the year. 
Cheat Codes Social Links: