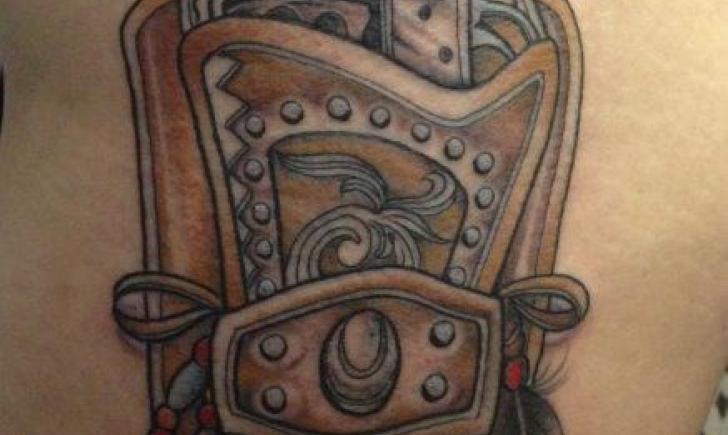 After fighting to prove that tattoo banning was a violation of  the First Amendment of free speech, Johnny Anderson aka Johnny Two-Thirds,  artist and co-owner of Yer Cheat'n Heart Tattoo in Hermosa Beach, California lifted a city-wide ban on tattoo shops, hopefully paving the way for more artists that will genuinely like people (just as much as Johnny).
Specializing in large and finely detailed Japanese, Traditional and Portrait tattoos, Johnny has been tattooing since the tribal armband craze and has learned to love the art, no matter how small.
What do you think needs to change with the stigma of tattoos?
Some mystery and stigma are probably good with tattoos because that's what makes them cool. I think most people over the age of fifty or so still look at tattoos as taboo, whereas the younger generation is embracing tattoos as an art form. You can only stretch that rubber band so far though; at some point tattoos will be so common it will almost be rebellious not to have one.
Has your Yer Cheat'n Heart Tattoo shop in Hermosa Beach, California, been well-received since the courts ruled in your favor?
It's been great. Once we won the ruling the folks that work in the city and the residents here have been nothing but supportive. I had customers from Hermosa Beach already and people are stoked to have a tattoo shop here.
Was there ever a time when you wanted to give up fighting against the City of Hermosa Beach?
Yeah, I guess so. I mean there wasn't a whole lot of work for me to do. The wheels of justice just turn very slowly, so it requires lots of patience. 
What advice would you give an aspiring tattoo artist?
Do nice, solid tattoos. Treat people the right way. Keep the doors open and be available. You'd be surprised the horror stories we hear of people being treated poorly by tattooists. It's a record store mentality. They think somehow because they make tattoos that they're cooler than the people coming in for them.
Describe a time where you believe your talent truly helped someone?
Specifically, cover-ups. We hear that all the time, like someone who is ashamed to take off their shirt at a swimming pool because of an old gang symbol or Swastika or you name it. I've been tattooing twenty years.
I did a Holocaust survivor tattoo fifteen or twenty years ago and she had tattoos on her arm from the concentration camp. I naively suggested we cover them up. She was adamantly opposed to that; they were kept as a reminder. I was really tripped out how these burred, blue numbers like we would brand cattle would be such a powerful image to her.
What is your greatest strength as a tattoo artist?
The older I get and the more I tattoo, the more I really just love all types of tattoos. When I started we did the proverbial tribal armband, and we hated those! But now I really try with every tattoo to put everything I can into it. Rather than sitting in judgment over a tattoo thinking, "I can't believe I'm being reduced to this, this tattoo I am so above it." I mean that's just a ridiculous sentiment of kids that think more about themselves than they ought to.
How do you see the Pinterest tattoo trends?
Pinterest  is the flash rack of the new millennium. The only aspect that bothers me is the first lady that got the Infinity symbol with the word "love" written in it was clever; the first lady that got the feather turning into birds design was clever.  It's just a shame her tattoo (whoever she is) has been replicated thousands of times. However, if the image is strong it just speaks to people.
Those little dainty tattoos some artists are so passé about, I try to rectify it in my head as this gal and that tattoo may be the only one she'll ever get and I treat it with the seriousness that is due. I really believe with tattooing you have to genuinely like people.
If you weren't a tattoo artist what would you be?
I have no idea. I have never had a straight job I've been doing this my whole adult life. Try to peddle art somewhere?
What do you feel the most beneficial part of being a Tattoo.com member is?
You know you asked about my strongest suit and my weakest is self-promotion. I tattoo too much and the second part is that I have too many kids.  I don't have time to promote myself and I've really never been that good at it.
My hope with Tattoo.com is that it's just so prominent, I mean it's "Tattoo.com" and it doesn't get much simpler than that. I hope people will see the tattoos that I do and they'll want to get more work like it.
What's the story behind your name?
I love old country music and Yer Cheat'n Heart is an old Hank Williams song.  When we opened the shop we really wanted to convey that this is a shop steeped in traditional roots. We wanted to create an ambiance.  With each shop it really feels like you are stepping back into time, there are tons of antiques and old flash on the walls. The name helped convey that.
How do you feel about lover or name tattoos?
I think everybody should have a name they regret. I think they're kinda cool. I got my wife's name tattooed on me two weeks after I met her and just by the grace of God we're still married.  
Visit Yer Cheat'n Heart Tattoo shop in Hermosa Beach, California Member Profile to leave a review, check out artists portfolios or to obtain contact
information.
Images  courtesy Yer Cheat'n Heart