Michal Malanowski is a tattoo artist from Newied, Germany. He's been tattooing for eight years.
What or who inspired you to pursue your career as a tattoo artist?
One of the heavy drinking guys in my neighborhood. I was an aspiring fine art painter at that time, and I met him coming back home after a day full of work. After I told him that I can draw and paint, he asked if I tattoo too. I said that I can't. That it is too complicated and too hard for me! But this idea me tattooing was planted by him in my mind already. It started to grow a few months later as I began to watch works of art by other tattoo artists around the globe.
How would you describe your style?
Romantic realism, or hyperrealism
How many tattoos do you have?
Eight. Not many for a tattoo artist. Since I started tattooing, I got completely focused on work.
Most interesting/funny/awkward tattooing experience?
I had 2 twin brothers booked in my schedule, one week difference. I finished the tattoo for the first one, and a week later I can see "him" coming back again (why?) and my tattoo disappeared from his arm completely! You should see my face! It took me a while to realize that this is a twin brother of a first customer.
If you could tattoo any person in the world, who would you choose?
The Pope.
Besides tattooing, what are you passionate about?
Sci-Fi and reading are a big thing for me and always were. I was a heavy RPG pen and paper player for years. Now it is hard to get friends together, but I still play sometimes. I love this.
Tell us about your shop/studio – what's the vibe like/walk us through what can a client expect when they walk through your doors?
It is like home. It is well lit. No creepy, dark places. On the walls, you can see little souvenirs from my family members, friends and from my travels. There is always coffee and sweets for my customers. It is straightforward but comfy. Tattooing area and drawing/painting place take most of the space. I believe in no-rush-in-tattooing, and working on the design together until me and my customer are both happy. That is why the design desk with a huge computer station is the central element in my studio. Customers drink coffee and enjoy the ride of having valuable input in their tattoos. I find this part of the process is the most important one in my approach. If you listen to your customer, pretty often you can be surprised by the amount of inspiration you may have!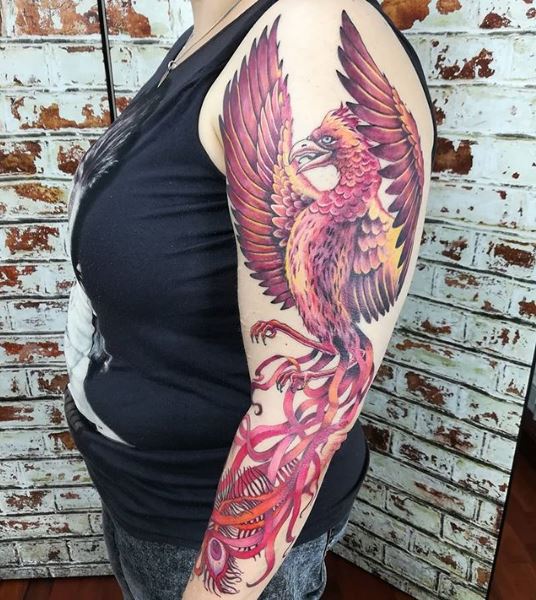 Any advice for aspiring tattoo artists?
1. Make some crazy, ridiculous goal and do everything you can to succeed.
When I started, I wasn't aware of how big the tattoo artists scene is, and were. I had no idea about the history and passion behind it. I saw some simple tattoos, and I thought: I can draw well. Not like those guys. So I will become the best artist ever! I can do it!
And then every time I searched for knowledge, or learned something more I realized that what I knew about tattooing was just micro top of an iceberg. The goal that I made for myself was so stupid and so unreachable. But I still followed it, and I was getting more inspired each day after each discovery of fantastic artists and techniques.
A few years later I gave up on this goal, as it is crazy and ridiculous (what does it even mean to be the best?). But then I realized that as soon, as I stopped perusing this stupid thing – I went into kind of stagnation. I think this stagnation of experienced, established tattoo artist happens way too often.
So today I am back on track, and I want to be the best tattoo artist ever! Is it stupid and unreachable? Of course! But the goal of that size will keep you excited forever and that way I never stop progress as an artist. So my advice would be: Choose some unreachable, crazy goal and follow it blindly, no matter what, and you will be surprised by positive stuff that will happen from this obsession!
2. Listen to the customers.
Do not judge. Be helpful and listen. There are way too many assholes in tattooing.
What is the best way to book an appointment with you?
Through my website. I rarely pick up the phone during the day, as I do not want any interruptions in tattooing.