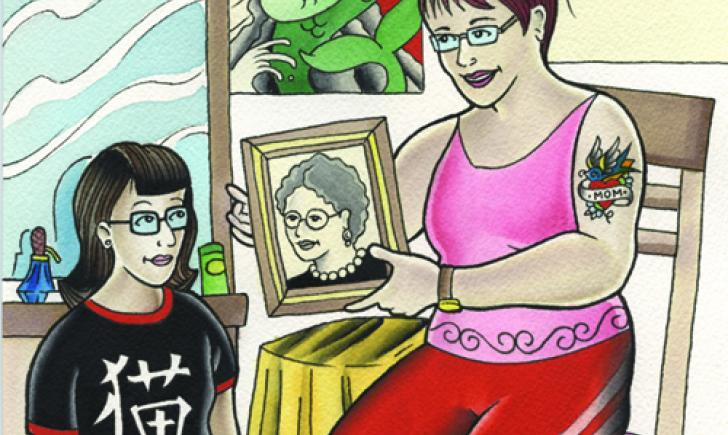 Skeleton Key Tattoo just celebrated its five year anniversary in February of this year. A truly diverse and talented group of four artists make up the staff of Skeleton Key Tattoo. You have Ximena Quiroz who owns the shop, Maki Shindo, Mark Ledford, and Levi Greeenacres. Tattoo.com had the opportunity to sit down with Levi Greenacres to talk about his life as a tattoo artist, the shop and his latest project, "Mommy's New Tattoo".
First off, Levi, thank you for taking some time out to talk with us. Just give us a brief background about yourself, and how it lead you to tattooing.
I am originally from Oklahoma, and I went to high school and art school in the Pacific Northwest. I write books for children, make and trade a lot of mix tapes, and collect novelty music records, which I got into doing a radio show. I also play a lot of pinball, which is the only full-contact sport I excel in. I started my apprenticeship in 2005, and started working full time in 2007.
What was it about tattooing that really appealed to you?
I wanted to make art all day, listen to my own music, and still be able to pay the light bill without working a day job. When you are lumpy and covered in a yeti's matted pelt, finding a good-fitting company-issued polycotton blend work shirt is really a drag. When I worked a regular job, I usually resented listening to Muzak, or the soft rock station or whatever. I'd get asked to stop playing Buck Owens, William Shatner covering pop songs or Ween. Now it's just part of the ambience.
I love Ween. You mentioned that you apprenticed in 2005. Tell us how that came about and how it paved the way for the rest of your career?
I got to be friends with a few tattooists when I organized circus shows, and the opportunity to start an apprenticeship was too good to pass up. After I got my first tattoo, I started to seriously consider doing it. I wanted to do something more than have my illustrations and designs be used to sell something else. I worked freelance as an illustrator, and didn't get the same satisfaction from it that I do from tattooing.  Before I started tattooing, I worked a lot of day jobs to support my freelance art work—cook, phone psychic, mental health care. So now when I go to work at a job where I get to be my own boss and draw all day, I try to remember how good my life is, and show my gratitude to my clients and peers by treating them with respect.
An impressive array of jobs! Speaking of your peers, what kind of talent do you have working in the shop with you?
Everyone here has their own distinct style across a broad spectrum of interest, from realistic black and grey, traditional Japanese and American, and one of our artists really likes designing and tattooing celtic knots. It's a well-rounded place. And, we have a gallery space in the front of the shop, where we have First Friday art openings every 2 or 3 months.
It's great when a shop can go beyond being just another tattoo parlor and host events like art openings. Look, I know you probably get this all the time, but I have to ask, what Styles do you specialize in?
"Specialize" is something I haven't really done yet, though my main interest stylistically is traditional American stuff. The sillier the better. I like taking parts of animals and putting them on other animals where they don't usually belong in a funny way. I do a lot of nerd-oriented novelties (equations, D&D related pieces, obsessive collector badges, chemical compound diagrams), anything that people get that makes them remember something fun about life or themselves.
Let's talk about your latest endeavor – your new children's book.
I wrote and illustrated an unlikely children's book about tattoos and got it published by Schiffer Books this year.
My book is called "Mommy's New Tattoo." It is based on my first experience going to Madame Lazonga's tattoo shop in Seattle when I was 13. My mother had just had a medical scare, and got a piece to celebrate survival. I am from Oklahoma, where tattooing was illegal until the end of 2006, so going to a tattoo shop with someone I'd previously considered fairly conservative was quite a shock. Madame Lazonga is great, and I felt at the time that I'd been transported to a circus in outer space. It's a feeling that I haven't gotten from any other workplace or life experience. "Mommy's New Tattoo" is the book I wished I'd had to read while waiting in the lobby of the shop that day, and what I hope other shops will carry to give kids (if they are allowed inside) and parents something to read and talk about.
The book talks about a lot of things, first and foremost about the permanence of a tattoo. How there's still people in the world that will treat you differently if you display one. And how, when you are old enough, to pick a good shop, and most of all, when making any decision—particularly one you know isn't going to wash off—to make up your own mind about it. One thing about tattooing that sometimes people in their enthusiasm to get a tattoo don't take into account, a tattoo is forever and requires some forethought. "Mommy's New Tattoo" is also a humble suggestion for a solid, traditional tattoo that won't go out of style—unlike the occasional first pieces people get based on what's cool at the moment. There's a coloring page in the back of the book that is the "Mom" heart central to the story, which can also be used as a tattoo stencil.
Aside from the kids, who would you say you wrote the book for?
In addition to wanting to honor some really cool people who've influenced my life in a positive way—Katie Williams at House of Tattoo in Tacoma, Washington, Madame Lazonga, and Ximena Quiroz who owns Skeleton Key Tattoo where I work now—I originally wrote and illustrated "Mommy's New Tattoo" for a Mother's Day present. My mom did a lot of wild stuff in her life, drove race cars, was a trucker for a while, and raised a family by herself. And she encouraged me in doing a lot of wild stuff in my life, like getting into tattooing.
Word to your Mom! Not many tattoo artists can boast having a book under their belt. That's quite an accomplishment in and of itself. What are your future goals, immediate and long term?
My immediate goals are to keep drawing, learning, and tattooing to the best of my ability.  I am trying to organize my first book reading tour, primarily in tattoo shops across the country. My long term goals are to write more books for children, as well as publish at least one book of interviews with veteran tattooers. I would like to get shot out of a circus cannon. If we're talking about "If you could really make anything happen" type long-term goals, I'd want my overall career arc to parallel that of my hero Shel SIlverstein, who did all kinds of things with words, pictures, and music.  Shel was a big fan of Johnny Cash, and wrote some songs for him. One of my favorites is "A Front Row Seat to Hear Old Johnny Sing," in which the Man In Black makes a cameo vocal appearance. I would like to record a cover version of that song, with my favorite band of all time, They Might Be Giants.  I would call it "A Front Row Seat To Hear The Two Johns Sing."
I'd love to hear that! Before we wind down, who are some other artists you really admire?
Artists in general? John Flansburgh and John Linnell. Mojo Nixon. Leonard Nimoy. Author/Illustrator Howard Pyle. Roald Dahl. Shel Silverstein. Tattooers would  include Scott Sylvia, Hubba at Seattle Tattoo Emporium. Kate Hellenbrand, Eric Quale at Grizzly Tattoo in Portland, and Kris Cunningham to name a few.
Very good sir. Lastly, words of advice for artists looking to break into the industry:
Draw and paint constantly. Have a good attitude.
Good to know! Well, thank you kindly Levi and we look forward to getting our hands on the book!
Mommy's New Tattoo  is available here: http://www.schifferbooks.com/newschiffer/book_template.php?isbn=9780764343896
The promotional video for it is here: http://www.youtube.com/watch?feature=player_embedded&v=XN4l091vwEk
Levi's website is: www.levigreenacres.com