After flooring success on a North American tour with the Kaiser Chiefs and appearances on Bonnaroo, SXSW, and Jimmy Kimmel, the Portland electronic duo known as Priory are taking the nation by storm with their early April 2015 release, 'Need to Know.' Priory are a band without a backup plan, and it shows in the atmospheric, melodic, and high energy tracklist to the likes of Two Door Cinema Club and CHVRCHES.
Priory formed in Portland, Oregon in 2009, and with relentless effort and persistence, they landed a record deal with Warner Bros. Records to feature the succulent indie pop electronic mash-up that we all love today. Members Brandon Rush and Kyle Sears compiled an interactive and informative video on some of their favorite body ink and experiences in the band.  Click through the video first, then read on to see what they had to say.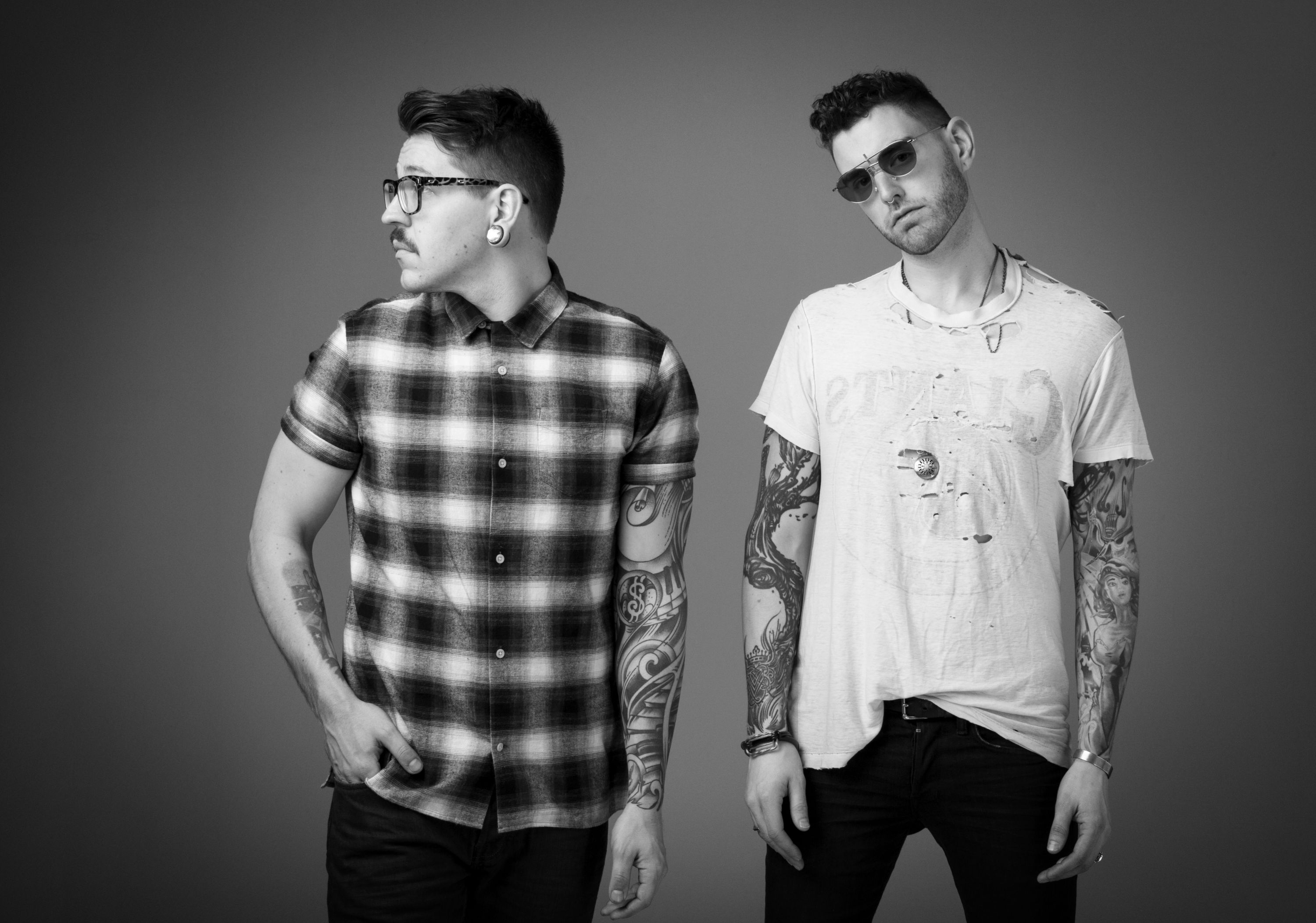 How do you feel that music, specifically genre, influences tattoo design?
Brandon: I remember seeing Kerry King (RIP) covered in Tribal when I was fourteen and thinking, "Hell yeah, that's what I'm doing when I turn eighteen." Hindsight, I'm glad that didn't happen. For me, as a musician, tattoos are a commitment to never again have a day job.
Kyle: I think that tattoos are an extension of one's personality as well as their fashion sense. My tattoos don't have a lot of color so many people think I'm in a metal band. I also think they act like passports. You can look back at each one and see where you were as a person at a point in time.
Kyle's dollar sign is a bit of an ironic tattoo. It symbolizes financial success during a time of financial struggle when you were working on the record. Do you have any other ironic tattoos?
Brandon: No, the rest are dead serious.
Describe Portland tattoo culture. What are the latest tattoo trends, and who are some of your favorite artists?
Brandon:  Everyone has tattoos. My doctor, my grandma—everybody. It's actually more strange for a twenty-something year old in Portland not to have them. My tattoo artist is named Clae Welch. He lives in the Puget Sound. I have to travel every time I want to be tattooed. I am halfway through a full back piece and am just fine waiting in between sessions. I have a bunch of tattoos but the back hurts like hell. James Kern and Jacob Redmond are a couple other artists I really like.
Do you guys have any matching tattoos?
Kyle:  We don't, but we have thought about getting some tour specific tattoos. Never say never.
Lots of listeners will get tattoos related to their favorite bands. How do you guys feel about fan tattoos? Do you have any that are inspired by your favorite bands or artists?
Brandon:  I personally don't. There is a girl who asked me to hand write lyrics to our song "Put Em Up" for a tattoo. I think it's cool as long as you are sure the band's sophomore record isn't going to suck.
What was the driving force behind 'Need To Know' and what was your first thought once the record was complete?
Brandon:  We worked really hard on those songs. I felt borderline postpartum when we finished. It was pretty heavy.
If you could get a matching tattoo with any celebrity, who would it be and what would you get?
Kyle:  Whatever Nick Jonas wants to pay for.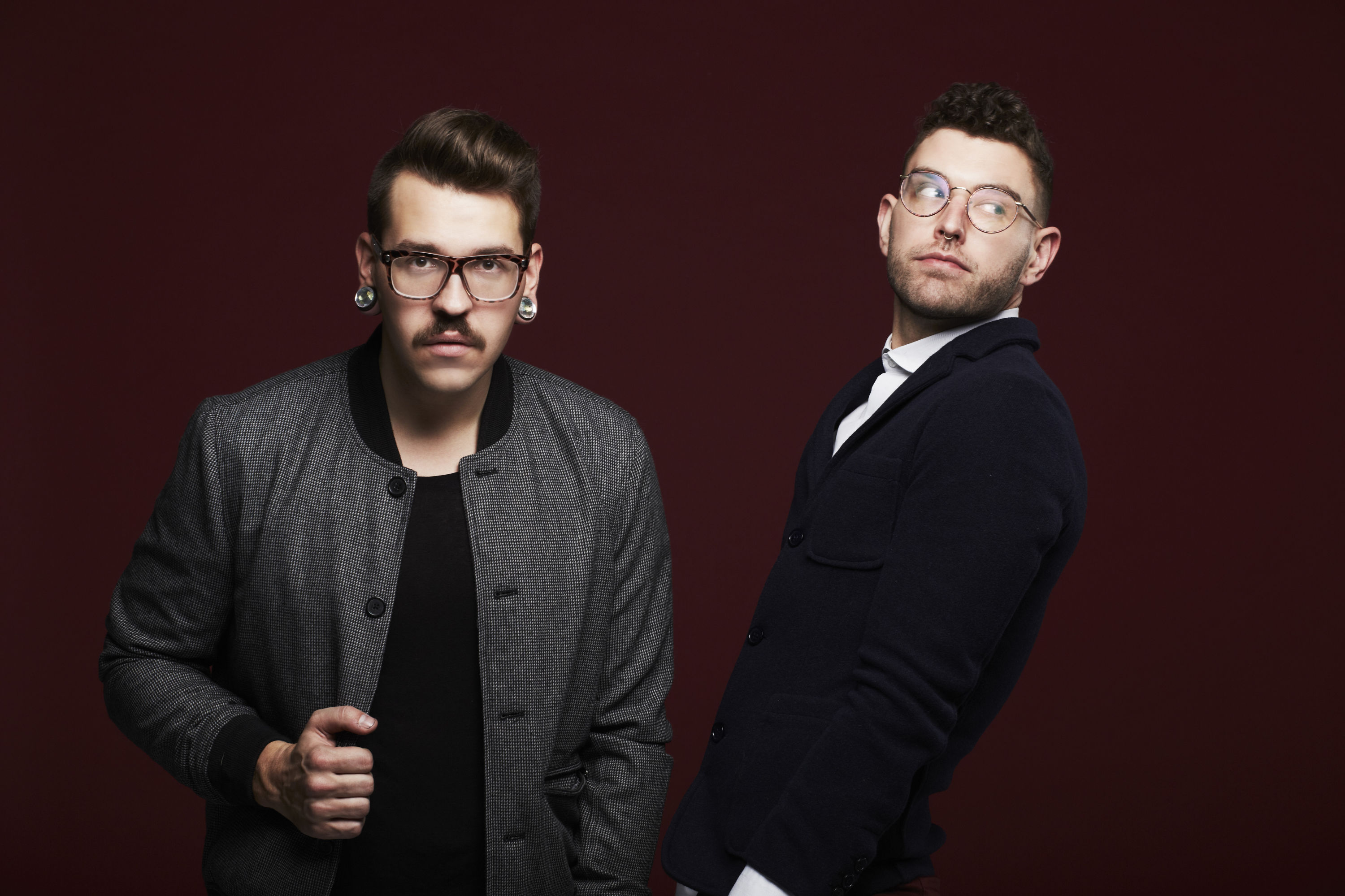 What is the next piece you plan to get?
Brandon:  I want to finish my back piece and then black out my arms and start over.
Kyle:  I want to get an old-fashioned barber pole in memory of my grandfather who cut hair for over fifty years. He would have loved to have seen the current resurgence of old school clean cut barber shops around Portland. Shout out to my friends over at Brink and Mortor.
What was your very first tattoo, and why did you get it?
Brandon:  Odins Horns on the back of my neck. I was sixteen and trying to be like George Clooney in From Dusk til Dawn.
Kyle:  I have a small dove on my wrist. I was traveling with friends and got this at a trailer park somewhere in Pennsylvania. When the tattoo artist asked what I wanted I jokingly told him a grilled stuffed burrito. He laughed and preceded to tell me he would do that for free. I got the dove.
How do you feel that your music is translated in your own ink?
Kyle:  The sleeve on my left arm is a beautiful piano that is breaking apart and looking a bit worn in areas. It represents the beauty found not only in music but also in life. Instead of focusing on the broken imperfect parts we should focus on the whole. We all have flaws and scars but each are unique, and in that true beauty lives.
Purchase Priory's new album 'Need To Know' on iTunes