While She Sleeps, Arch Enemy and tour headliners Trivium burned it down at Gas Monkey Live when they tore through Dallas.  If you missed the show and you were anywhere near Gas Monkey Live, I must say, it is probably one of those choices you are going to regret for a very long time. The crowd was asses to elbows and so packed it was moist – like mid-July New Orleans moist.  A quick recap for you is my holiday gift to you and all those who missed this epic tour, whether you missed the Dallas stop or all of the shows.
While She Sleeps set was filled with the energy of a supernova. Lead singer Lawrence Taylor wasn't content with just watching waves of crowd surfers break across the barrier, he also joined in the fun before their set was done. While She Sleeps has a special way of connecting with its fans while putting the Grrrrrrrrrrrrrrr into metal.
It would be tough to follow While She Sleeps as a band unless you are Arch Enemy. Putting the sexy into metal, Arch Enemy came out guns blazing. Powerhouse vocals by Alissa White-Gluz backed by a topnotch band that includes: Michael Amott – Lead Guitar, Jeff Loomis – Lead Guitar,  Sharlee D'Angelo – Bass, and Daniel Erlandsson – Drums is the magic that is Arch Enemy. Be sure to scoop up the new album "WILL TO POWER" OUT NOW! Get your copy here: http://willtopower.centurymedia.com/.
As stated, Trivium was the headliner for this evening of molten metal.  When they hit the stage the crowd at Gas Monkey Live went off the hook. The wall to wall bodies partook in pitting and body passing while Trivium did what they do best, and that is melt faces.  It was a win-win night for the band and the music fans. Trivium is touring on their new album "The Sin and the Sentence"  and we had the chance to hear all about the new album, and the album art relating to ink, and more from guitarist/vocalist Corey Beaulieu (coming soon to Tattoo.com).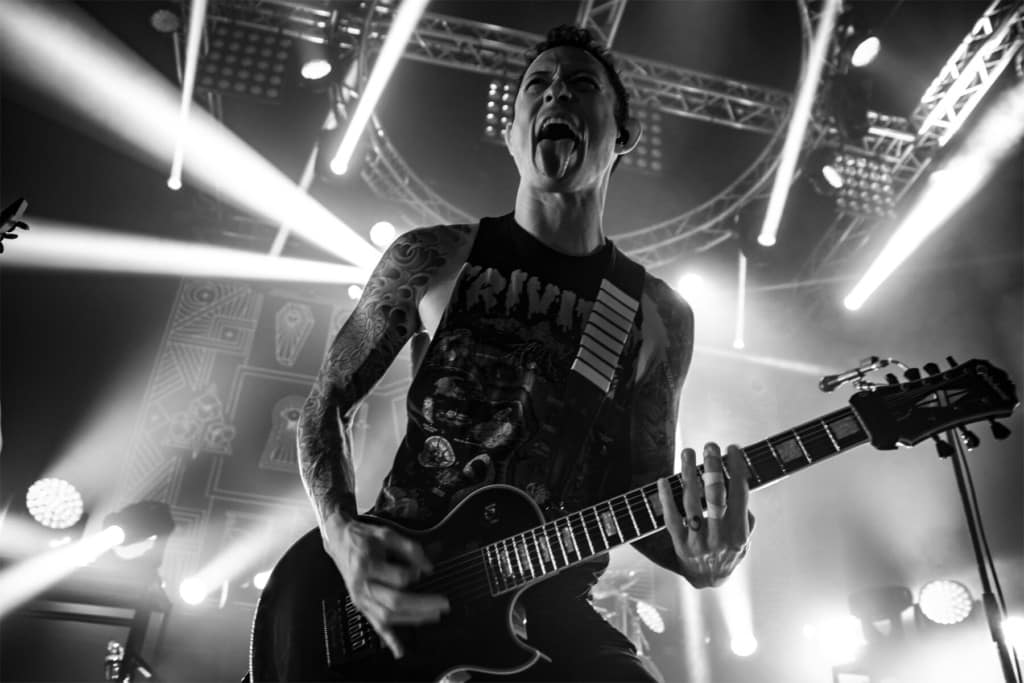 As always, support live shows and get to a venue near you. If you hit Dallas, make it a point to see a show at Gas Monkey Live and you will thank me later!
Written by Mischievous Mel