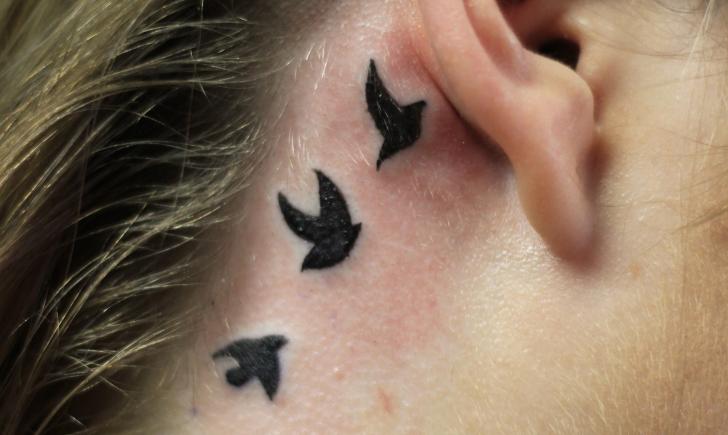 Have you ever wanted a tattoo but wanted to keep it small, classy, and easily concealed? Perhaps you are attracted to neck tattoos but aren't quite bold enough to get one of your own. Behind-the ear tattoos are a great way to get the best of both worlds. They can be covered up with longer hair and hats, and they are typically miniature in comparison to the average tattoo. Here are some more creative ways to achieve the ultimate and adorable behind-the-ear ink.
This clever R2-D2 tattoo is to be admired by nerds abroad. It is bold, yet it can hide behind those flowing locks at the next employee meeting.
Here is a black Tinkerbell silhouette that shows femininity and poise. Not to mention that it is more comparable to the real character!
This Waldo tattoo is hilarious and full of unspoken puns. He's been hiding behind you this entire time.
Here is a simple and tiny black line tattoo for owl lovers.
This bumblebee tattoo can have multiple meanings, but we know what's buzzing in this person's ear all day.
Here is another awesome and nerdy tattoo of Pikachu from the classic cartoon known as 'Pokemon.' The yellow is bright, and his rosy little cheeks pop.
This anchor is a classic tattoo for most ink lovers. Simple and black, it is straightforward and elegant.
The cord from these headphones trails off into this person's hair, providing a unique spin on objects associated with music.
This phonograph tattoo has great detail in the stipple design, and is almost a transitional piece between an ear tattoo and a neck tattoo.
Here is another owl tattoo that is larger and contains significantly more detail, especially for a smaller piece in general. Notice the shading of the feathers and the intent in the eyes.
Lastly, here is a nostalgic Lion King piece done in a stipple style with purplish brown hues. Simba would be proud.