Review/Photo Credit Michael Spencer Photography
The Below Tour Part II made it's stop at The Norva in Norfolk, VA on April 24th.
Featuring Beartooth, Silverstein, The Devil Wears Prada, and ERRA.
ERRA started off the night. Erra is no newcomer to the music scene, having released their first album over ten years ago. Much like fine wine, they are aging well. Touring in support of their fifth album, self-titled ERRA, and their set was comprised of mostly tracks off of the new LP. Opening with Gungrave, setting the standard for what was to come for the rest of the night. The Devil Wears Prada  was next up, opening with their latest single Watchtower, before digging into their older tracks like Danger: Wildman, from With Roots Above and Branches Below. Their set list bounced between newer tracks such as 
Chemical, from The Act, and Termination Can Grow Beards All Over, from ZII, before closing their set with Dogs Can Grow Beards All Over. Coming to the Stage next was Silverstein. Going straight for the throat, opening their set with Bad Habits, their lead track of 2020's A Beautiful Place to drown. Now that they had the crowds attention, it was trip down Warped Tour memory lane, with fan favorites such as My Heroine,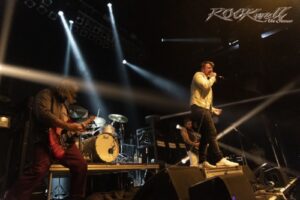 Massachusetts and Smashed Into Pieces, as well as three songs, released as singles, off of their forthcoming album. Misery Made Me, set to be released May 6th, before closing out their set with Smile In Your Sleep. And, next up, was the reason for the cost of the ticket, parking and gasoline (petrol), Beartooth. Beartooth is often described as a hardcore punk band, and while there are influences, I see more of a Rise Against metalcore/punk style. Before hitting the stage, preparing fans with a crowd enticing singalong of AC/DC's, TNT. Then the onslaught began. Opening with the first two tracks off their latest release, Below, with songs Below, and Devastation. The going thru their four-album discography, picking tracks such as Hated, You Never Know, Beaten in Lips, Body Bag and Disease. Performing a large selection of Below, such as the aforementioned Below and Devastation adding in Fed Up, Skin and Phantom Pain for good measure before closing out their 17-song set with encore performances of The Past is Dead and The Last Riff.
Beartooth and Silverstein will be making their way across the pond to Europe in early June with it's first UK show June 3rd at the Slam Dunk Festival.
— FULL PHOTO GALLERY HERE —