The Lotus flower is a symbol commonly featured in eastern cultures, such as Egyptian, Buddhism, and Hinduism. The Lotus is a flower that grows in mud and blooms each morning fresh and clean as though it had never been in the mud at all. Each night the Lotus curls back into the mud, and this cycle continues each day.Of course, it's not a requirement for one to follow any of these eastern philosophies in order to get a Lotus flower tattoo. However, it's a good idea to be familiar with the symbolism associated with images you planned to get tattooed in order to know what other people might assume based on your tattoos. While you shouldn't get tattoos based on what other people might think of them, it's good to know that you're not getting a tattoo associated with groups or images you might not want to be associated with. With a Lotus tattoo, you don't have to worry about negative connotations associated with your tattoo. The beauty of the Lotus is universally recognized.
The Lotus is a great metaphor for resilience and rising above obstacles faced in life. With each new morning, it blooms perfectly clean and beautiful, open to the sun and ready to face the day. Getting a Lotus flower tattoo can symbolize your own resilience and ability to overcome and face each new day's challenges with optimism and renewed faith.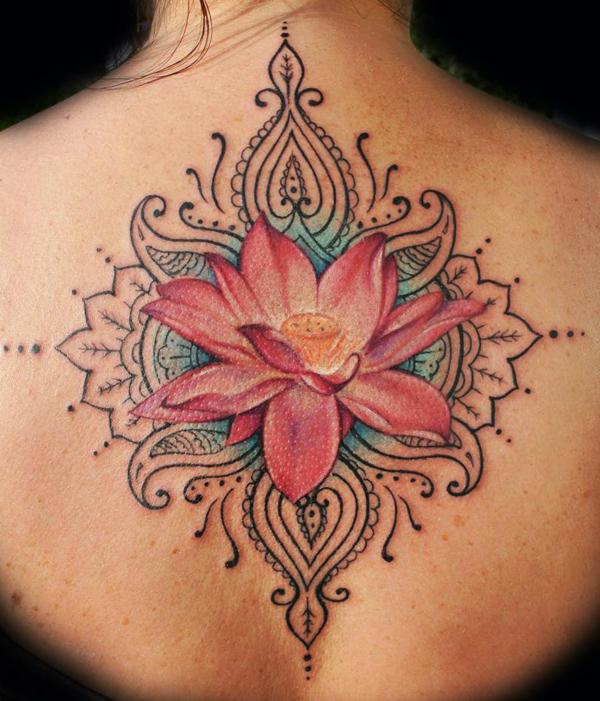 Lotus flower tattoos are often paired with an "Om" symbol, which signifies the sound of all creation, the vibration of God.
In Buddhism, the Lotus flower is a symbol of purity of body, mind, and speech. In Hinduism, the Lotus is symbolic of beauty, for obvious reasons…
The Lotus is a beautiful flower that arises from the "ugliness" of the mud in which it grows. Egyptians have used the Lotus as a symbol for the Sun, as it blooms anew each morning. Another strong symbolism associated with the Lotus is spiritual enlightenment and awakening of the spirit.
Your Lotus tattoo can be as small and simple
or as intricate as you like.
Published on May 19, 2015 by Ms Spooky Tina E