Hailing from Helsinki, Finland with a career spanning over two decades. FINNTROLL in the USA have sold over 50,000 albums and amassed over 7 Million streams of their back catalog. Performed on 70000 Tons of Metal Festival Cruise in 2020 and Festivals such as 'Hellfest' and 'Sweden Rock Festival' even toured with the likes of Epica, Fleshgod, Apocalypse, Belphegor, Turisas, Amon Amarth, Behemoth, The Black Dahlia Murder and Battle Beast.  You seriously have to have a word with yourself for not investigating these theatrical monsters sooner.
FINNTROLL are about to drop their 7th album 'Vredesvävd.' After grabbing a spoon to eat my shame, I managed to catch up with Frontman 'Mathias 'Vreth' Lillmans' for a quick chat.
Conversations….
Even though you guys have been around for quite a few years, I've heard your band name mentioned more than enough times, but I hadn't got around to listening to any of your material until now.  I was very interested to see what kind of back catalogue you had, and was pleasantly surprised, especially after reading you were a Folk/Metal/ Death Metal Band kind of genre.  The whole thing works really well.  One thing that surprised me was the 'Keyboards', not being a massive fan of 'keys' myself, I think the whole thing works really well.  You haven't over used the keys and over powered anything else which is going on, which is really cool.
"Yeah well that has always been one of Finntroll's things, because we want to have, you know,  If you took the keyboards away it would sound like all entuned or Swedish Black Metal or something like that, then we add keyboard to it, and make it more atmospheric. The ground has always to be, the band it's self, sort of a black metal band, then we add those Finntroll'ish keyboards on top."
Your new album is to be released in a couple of weeks time, your first two single releases have already got massive hits on the video play already?
"Yeah that has been so good to see…and all the good feedback…and a lot of it as well, we are really happy, cus when you've had this kind of break, when you've been thinking about it so much, is it good enough to wait for seven years for something like this? and I have to say the feedback on the first two songs is so good, and I'm really happy with it, yeah proud of it!"
Seven years is a big gap between albums. was it planned or did it just happen?
"No it wasn't really planned, we have had a really long album cycle, it's usually been around 3 to 4 years, but because we're not that kind of band we don't write anything, except when we're on tour.  So when, we come home and have some time off after touring, that's when you start writing stuff, this time, we tried to do it after the last album ** but we never really thought it was good enough, then went on more touring, and after 4 years, we were really under pressure to write something, we had already past our album cycle and we had like 2 songs.  The pressure was really there to create something really good. So there we are 7 years later haha."
Original vocalist Katla, is he still writing the lyrics for the band?
"Yeah, he's been writing on the albums, yeah he's got the style you know, and I couldn't be happier that he's involved in this."
All your lyrics are in Swedish and not Finnish?
"Yes, we are from Finland, but we sing in Swedish, I can see how it really doesn't make sense. Well I come from a part of Finland, which is Finnish/Swedish speaking.  100s of years ago when Finland sort of gained their independence, a lot of the Swedes stayed, especially on the west coast where I live, so we have two official languages, Finnish and Swedish."
Going back to the new singles, I love the animated video for 'Forsen'
"Yeah it's a lot of fun.  We had a video from about 10 years ago and we had the same company come back to do this one..it's real fun, cool and also the story behind it, I couldn't be happier."
The artwork for the album, it has a very folklore vibe to it, is folklore a strong subject in Finland?
"Yeah definitely, old mythology, myths and legends not just from Finland, but all over Scandinavia and other parts as well, it's a big part of FINNTROLL and always will be."
First track 'Vaktaren', is this classed as an Intro or a song, it's a very dramatic and powerful piece of music.
"We have classed it as an Intro.  The idea of that was to set the mood for the whole album, especially after waiting seven years, we wanted to create the right setting for the album to start. It was real important that we set the tone of what's to come and introduced some of the melodies off the album in there as well, it's a mood setter."
For me it really does that job, it sets you up nicely for what's about to hit you in the face. There's a few songs like that that really does it for me 'Ormfolk' is probably my favourite at the moment.
"Yeah it's a real old school Finntroll song, you can feel elements in it that could've been nineties side, back to the roots Finntroll, and for me describes the whole album."
This year has been a real let down for everyone, but you've a tour booked for spring next year?
"Yeah that should actually be happening now, we moved it forward quite a bit, so hopefully we won't have to move it again. It's going to be fun to get back out there and living in a tour bus again..haha.."
All the dates are for continental Europe. Any plans for coming to the UK?
"Yes but it's so hard right now because of the political situation you have there is not making it easy for us. UK can always be a bit of hassle anyway in the middle of a tour because you have to get a boat over and then go through customs and now we have to get visas as well, we really want to come there and not sure if I'm getting ahead of myself but we are planning that if we come over it wont be just for two shows, it'll be five or six dates which would make more sense. I really hope we can work something out."
You've already released two singles off this album, are there plans for another release..?
Yes definitely, in a couple of weeks actually, we are currently editing the video and saw a draft for it and it's looking really good, you'll see some familiar faces in this one as it's not going to be animated.
Thank you for your time Mathias, and hopefully see you in the UK sooner rather than later stay safe and well!
"Thank you it's been fun.."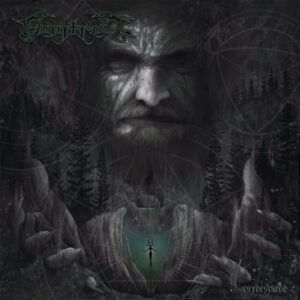 FINNTROLL's 7th Studio Album 'Vredesvävd' Due to be released 18th September.
From the off you can tell the band means business..opening track 'Vaktaren' immediately grabs you and pulls you in, setting you up for what is about to be unleashed on your ear drums, it's as dramatic as it is powerful, leading beautifully into  'Att Doda Med En Sten'
First release from the album and definitely my favourite 'Ormfolk' LISTEN HERE a fast and relentless assault harking back to earlier material, this is already proving very popular amongst die-hard 'Troll' fans.
'Forsen' is the 2nd single to be released and is also accompanied by a great animated video WATCH HERE This is another great tune, gets the blood pumping, you want to raise your horns, beer in hand and head off with your horde to the nearest circle pit.
'Vid Haxans Hard' for a few seconds the calm and mellow intro makes you wonder what is going on..then.. normality resumes as it all kicks off again pummeling your ear drums..
'Ylaren' closes the album, although this is a slower track it's a nice calm climb down from the previous tracks, but it still kicks a lot of ass. A great way to end a very impressive album.
So, whether you're a die-hard fan or a 'newbie' you really do need to check this album out. start to finish, it has you by the nether regions and fails to let go.. 9/10  (Interveiw and Album Review by Neil Franklin)
Vredesvävd Track Listing:
Väktaren 00:02:48
Att Döda Med En Sten 00:03:37
Ormfolk 00:03:58
Grenars Väg 00:03:44
Forsen 00:04:07
Vid Häxans Härd 00:04:01
Myren 00:02:49
Stjärnors Mjöd 00:04:08
Mask 00:03:01
Ylaren 00:05:06
FINNTROLL are:
Trollhorn – Keyboards, Orchestrations, Guitars, Banjo, Mouth Harp
Tundra – Bass
Skrymer – Guitars
Routa – Guitar
Vreth – Vocals
Virta – Keys
MörkÖ – Drums
Follow FINNTROLL Online: